Hi Whimsy fans!
On September 14th we released our fabulous new rubber stamps and dies. Over the past week the Whimsy Stamps DT and Whimsy Special Guests have been showcasing these awesome new goodies, and each day we held a 24hr mini blog hop where you could enter to win a prize! So without further ado, here are the lucky winners from those draws:
Thank you to everyone who visited the blogs of our fantastic DT & Guests and left such wonderful comments. Please would the winners
email Denise
with their full contact details so that their prizes can be mailed out to them as soon as possible. Thank you!
Although the mini blog hop prize draws have ended, we still have one final day of showcases for you, so please visit today's DT to take a peek at their final new release projects: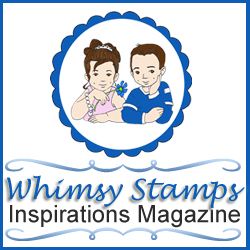 We are delighted to announce that we are releasing a
Whimsy Inspirations Mini Magazine
today that focuses on the new release stamps! It features some never-before-seen creations from our wonderful Magazine Staff as well as many of the beautiful creations shared by the Whimsy DT over the past week. So grab a cup of your favourite beverage,
CLICK HERE
to open the *free* online magazine and indulge yourself in a bit of "me time".
Finally, you still have a few more hours to take advantage of the fabulous
Whimsy Stamps
10% discount on all new release stamps and die
special offer. There is no need to enter any code when checking out as the 10% discount has already been applied. This special discount expires at midnight EST tonight (Wednesday 21 September 2011).
If you have made something using one of the new release stamps and/or die, please send us a link as we would love to see your creation!
Thank you for joining us for our new release.
Thanks for stoppin' by!